Page 1 | Page 2 | Page 3 Next Page >
Listed below is the Wyliecat Factory and the basic building process used throughout the Wyliecat line. Page one of three.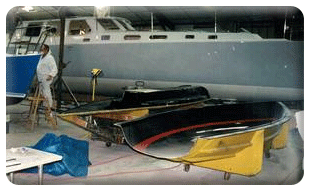 An empty Wyliecat 17 mold.
In the foreground is the empty hull mold for the Wyliecat 17. The red line is a guide for the different colors of gelcoat. Also visible in this photo are a few other Wyliecat's under construction at the factory. In the background you can see a nearly-complete Wyliecat 65, SRV "Derek M. Baylis", and on the left is the bow of a Wyliecat 30.