By Shimon Van Collie. Originally published in Latitude 38 magazine
Page 1 | Page 2
It would be difficult to find a designer who defies stereotyping as well as the Bay Area's Tom Wylie. Consider the four projects in which he's currently engaged: a 21-ft single-handed ocean racer, a 60-ft aluminum cruiser, a 30-ft production fiberglass catboat and a 52-ft wood-composite cruiser.
Any way you cut it, variety has definitely been the spice of a 40-year career in boat design and construction for the tall, rangy 58-year-old who favors worn jeans and plaid shirts. And that's just the way he likes it. "All four of these boats are just different ways of skinning the same cat," says Wylie. "In each case, I'm responding to the client and trying to marry what he or she wants with the wind, the water - and the budget."
As one of the local yacht design "hall of famers" - a roster which includes the late Gary Mull, Carl Schumacher, Jim Antrim, Bill Lee, Ron Moore, and George Olsen - Wylie is perhaps a bit more low key than his colleagues. Tom himself admits he's not a whiz in the business promotion department. Nevertheless, he has produced an amazing number of high quality boats, many of which are still sailing actively and a high percentage of which are still with their original owners.
"If I wanted a boat for myself", says Sausalito boatyard manager and former grand prix sailmaker Steve Taft, "Tom would be at the top of my list as the designer. As well as being one of the more intuitive and pragmatic designers around, he has a very good eye for the boat.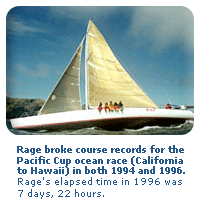 Wylie didn't grow up with salt water in his veins. Raised in the University of California Village off San Pablo in Berkeley, a teenage Tom just turned up one day at the John Beery basic sailing class at Aquatic Park. Up until then, he had had minimal exposure to the sport, building a couple of simple boats which he sailed with his father (he also helped his dad build a family cabin up at the Russian River), but those were more "my father introducing me to as many things as he could think of" than true introductions to sailing. His siblings, an older sister and two younger brothers, expressed minimal interest in the sport.
However, after learning the basics and sailing out of Richmond for a while, Tom became fascinated with how the notion of wiggling the rudder and pulling some strings made the boat go. Predating the local junior Laser scene, he just grooved on the wind and the water. Racing was a means of learning more about the interface of these fluids and eventually, he developed some considerable talent.
He also had some great teachers along the way, including Jim Dewitt, Don Peters and Commodore Tompkins. "In the middle and late 1960s," he recalls, "Commodore was the leading edge of the sport. If you were a good sailor, you could learn a lot from him. His obvious skill and his generosity in sharing it were pretty attractive."
Ocean racing was the next step in Tom's development as a sailor, and he attacked it with a passion, racking up miles with quality skippers like Ted Turner and Bob Derecktor. He campaigned his first Southern Ocean Racing Conference (SORC), which was then the World Series of the sport, in 1968 on George Kiskaddon's Spirit. A year later, he served as watch captain and sailmaker for another version of Spirit called Esprit, which won her class in the TransPac.
In 1969, Tom started working on his first design, a 24-ft Bay boat that he wanted to go upwind well in a breeze and still be fun and fast downwind. With the help of friends like Robert Flowerman, Tom coldmolded the hull in a barn in Davenport. He then moved the project up to Tito Rivano's shop at the Pacific Marina Boatworks in Alameda. "We worked out a trade," Tom says. "I got to use Tito's shop rent-free in exchange for letting him build a mold and produce the boat in fiberglass."
In 1971, Nightingale hit the water. With more than half of her 4,200 pounds of displacement in the keel, the boat proved to be slippery through the water and a winner on the race course. Rivano raised the flush deck for a cabin on the production version, which sold more than a dozen boats. As a designer, Tom Wylie had put himself on the map.
Looking back, Tom sees those days as sort of his "Jurassic" period. He breaks his design career into separate eras, the first of which began with the Nightingale and culminated with him designing and helping build the half-tonner Animal Farm in Tito's shop in 1973. Chris Corlett and Bill Carter finished the boat off and went on to win a couple of North American championships with it.
Another success of the early days was the 31-ft, flush-decked Moonshadow, a boat that still brings a wistful look to Tom Wylie's eye. Built to the Midget Ocean Racing Circuit (MORC) rule, she weighed 7,500 pounds and had a ¾ inch balsa deck with mat and roving on either side. Characteristically, many of Tom's friends took part in the project, including Don Peters, Dave Wahle, Chris Benedict, Bard Chrisman, Kim Desenberg and Caroline Groen. To symbolize their communal spirit, the group painted a small star at the bow of the white-hulled sloop.
"She was a sailing machine," Wylie says of Moonshadow. "The deck plan would still be considered modern today. I remember going against Panache (a 40-footer) in one race down south and we just pounded her. We commuted the boat between the Gulf of the Farallones races up here and the Whitney series in Southern California. We won both of them."
In 1974, Tom opened his own shop under the rubric Wylie Design Group on Willow Street in Alameda. This second era of design included boats like the 28-ft Hawkfarm (a marriage of ideas from Animal Farm and another Wylie half tonner called Hawkeye), a pair of identical 31-ft, coldmolded sloops designed for match racing called the Gemini Twins, the Two Tonner No Go 8 and the 40-ft fractionally rigged IOR racer Lois Lane.
In the grand scheme of things, Lois Lane, built for Bill Erkelens late in 1977, was supposed to be Wylie's ticket to the major leagues of yacht design. Tom crewed aboard the 40-ft Imp, designed by Ron Holland, during that same year when the Bay Area boat won sailing's triple crown: SORC, England's Admiral's Cup and the St. Francis YC Big Boat Series. Lois was slated to appear at the big regattas as well, but the program never really jelled, and while Ron Holland's career blasted off, Wylie's seemed to fizzle on the launching pad. Tom vividly recalls fixing Imp's rudder in England while Holland was nearby taking orders for new designs.
The "what ifs" linger on about Lois. Steve Taft, another Imp crewmember, remembers that when Lois Lane finally got sorted out, the boat was incredibly fast. On one race to the Farallones, Lois blew by Imp on the way out of the Gate and never looked back. In another Bay race, Wylie's boat was chewing the butt off Imp until the mast fell down. "Imp was a great boat," says Taft, "but here was one in our own backyard that had even more potential."
Page 1 | Page 2