Originally published in Sail Magazine
Page 1 | Page 2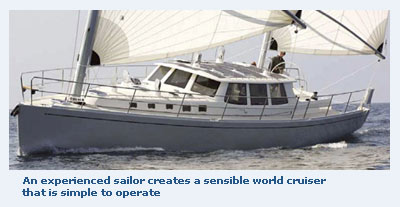 The mission was to create a true sailor's boat for a family that had recently spent time cruising in a powerboat and didn't want to give up what they liked about that—having a room with a view and steering from inside on rainy days. The mission leader was West Marine's founder, Randy Repass. Repass wasn't interested in having "just" a boat. Because his heart and his pocketbook belong to the world of water, he is happy to simply say, "I think our sport needs new ideas."
"I bought a powerboat because 70 percent of West Marine customers own powerboats, and I needed the education," Repass says. "Also, we wanted to cruise the Pacific Northwest, where it rains a lot and you don't always have a sailing breeze. The boat, a 42-footer, was a lobsterman type, and it served us well for nine years. There were nasty days when we'd cross paths with a sailboat, and we'd be sitting inside with the heater running, watching the world go by, while over on the sailboat everybody was hunkered below decks out of sight except for one poor guy stuck on deck in the rain in his foulies. That made an impression on both of us."
Randy and his wife, Sally-Christine, have always wanted a yacht they could cruise with their son, now age nine, around the world. But first they had to get to the starting point. "Putting a boat together has been a lot of hard work," Repass says, "even for me."
Repass began what was to become West Marine in his garage in the tucked-away town of Watsonville, California. Many years later he saw a boat named Jade, owned by a Northern California sailor and drawn by a Northern California naval architect named Tom Wylie. Jade is 68 feet long overall and has a well-proportioned pilothouse, and that was what first brought Repass to Wylie's door. What followed could make even a cynic believe in fate.
Tom Wylie likes unstayed cat rigs. They just make sense to him, and some of the most knowledgeable sailors in his area have been converted to Wylie-designed performance hulls with unstayed cat rigs and wishbone booms. But Wylie is also a dreamer, and when Repass first appeared he had already made a wild-haired commitment to build a large cat-ketch on speculation. The ketch would serve as an eco-friendly alternative ocean research vessel, or an alternative school ship, or both. Think of the movie line, "If you build it, they will come." The name of the boat would honor Derek M. Baylis, racer, designer, engineer, and grand old man of Northern California sailing.
Repass was intrigued with what he saw. He and Sally-Christine had already considered most known builders of long-distance cruisers without finding what they wanted, but this design was surprisingly different.
To Repass, parts of Wylie's boat looked as if somebody had been reading his mind. But he didn't rush in. Wylie recalls, "Randy took a close look at the Baylis project, but it took him nine months of coming around and asking a lot of questions before he finally made a decision. Then, as quickly as I can tell you about it, he told me that I was going to design his boat, Westerly Marine was going to build it, and he also wanted to become involved in the Baylis project."
Repass says now, "The thought emerged that we could try out ideas on the Baylis, and it would be launched in time for us to learn from it." However, reality played out differently. Convergence was well along before the Baylis was launched. It was a synergistic relationship nonetheless. Wylie recalls that, "Randy colored a lot of aspects of the design for the Baylis, but never as a businessman, always as a sailor. He likes fresh ideas—his house is off-grid, for example—and he believes that form follows function in a boat."
The hull is a sandwich of E-glass and West System epoxy over Core-Cell foam; a Kevlar lining has been added to the outer skin to ensure integrity in a collision. Three watertight bulkheads guard against catastrophic flooding. The decks are carbon fiber with a balsa core. Although the carbon structure added $10,000 to the cost, the resulting weight savings lowered the center of gravity. Repass considers that to be a good investment. Extra bulkheads reinforce the hull at the mounting position for the fin keel, which carries a lead ballast bulb. The spade rudder is also built extra strong, so even a hard grounding shouldn't prove a problem.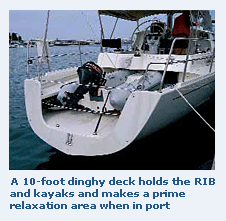 On deck
With 33-inch lifeline stanchions all around, the deck feels very secure. Moving aft and descending three steps down from the cockpit brings you to the 10-foot dinghy deck on the stern. The space—something you normally don't find on a yacht much under about 80 feet—accommodates two kayaks as well as a dinghy. At anchor, with the small craft deployed, the dinghy deck becomes a playground and relaxation area for kids and adults.
Amidships, the cockpit and pilothouse together form the working heart of the boat. The cockpit offers ample comfortable seating and a cherry-wood table, the only wood on deck. No rainforest wood is used anywhere aboard the yacht. The 54inch wheel is mounted on an Edson steering pedestal that features only a forward-looking Probe depth sounder from Interphase Technologies and a weatherproof Raymarine M1500 15inch radar display, which is networked to a PC in the pilothouse running Nobletec software. Raymarine ST 290 performance instrumentation and a 6001 autopilot are also linked to the system. The nav station also has a Garmin 2010C GPS. Communications systems include SSB, VHF, and satellite phone.
The pilothouse comes a close second to the rig as the boat's most striking feature. It combines a saloon, galley, and nav/steering station and is larger than the cabin the family knew and liked in their lobsterboat.
Page 1 | Page 2