Originally published in Sailing World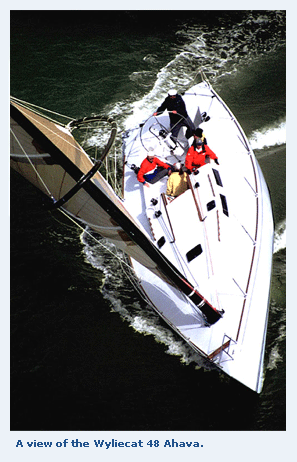 Tom Wylie is one of the real individuals in the world of yacht design. As far back as I can remember, back to the Animal Farm days, Tom has always done it his own way and Tom's own way has always been a good way.
No, Tom is not a fastidious draftsman. But Tom is a very good designer. It's easy to get the notion, looking at Tom's hurried drafting, that the end product for Tom is not the design but the boat. This biggest of the Wyliecat series is built by Wyliecat on a hull built by Westerly Marine. I've seen this boat, and I like it.
Tom knows how to draw a fast boat. This sparse 48-footer is slender and light with a D/L of 110. The hull is beautifully fair and without surprises. The sheer is not quite flat. Bow overhang, while not faddishly plumb, is very sensible and not at all slow. The keel is a welded steel fin with a bolted-on lead bulb. The hollow steel fin does double duty as a 65-gallon fuel tank. Draft is 9 feet, 6 inches.
The interior is simple. There are two quarter berths that are on the narrow side for legitimate doubles but wonderfully roomy for singles. The galley is skimpy but adequate. The head is É a head. The wraparound settees have narrow pilot berths outboard. There is a wide double berth forward of the settees. This big double is divided by the mast near the foot. There are far more berths in this layout than there are places for people to sit while eating. I think if a boat is going to sleep eight then it should be able to dine eight. This layout needs some fine tuning.
I watched this boat sail up and down the Oakland estuary for three days during the last Sail Expo show. I was very impressed. It's the ultimate singlehander. I kept thinking, "That's the boat for me."
This is a very good-looking boat that handles like a big dinghy. I know this cockpit can easily hold a crowd. It's a long cockpit with plenty of room for passengers to sit comfortably out of the way of sail handling.
Sail handling? What sail handling? This big cat boat has a halyard and a mainsheet. That's it. Okay, there's an outhaul, choker and boom lift, but once up you can leave these lines alone. There is no vang. There is no traveler. This is the epitome in self-tacking rigs.

Years ago I asked Lowell North what he thought the fastest rig was, and he said "a giant Laser rig." Even on San Francisco Bay there has been no need to reef the big cat, as the carbon-fiber mast falls off as the wind builds, easing pressure up top. The 48 can beat a Santa Cruz 50 upwind in 25 knots. The PHRF rating is 15. This boat moves and is very close winded.

I'm sure there are drawbacks to this rig, but I don't know what they are. Maybe downwind in light air you'd feel the lack of a chute. Perhaps you'd like to keep your crew busier with more strings to pull. If going the fastest for the leastest amount of effort is the key then we have to carefully consider this approach.

The SA/D is 26.28 without roach or luff round. Adding roach and luff round raises this number to 35! There is 1,300 actual square feet of sail in this big mainsail. I've seen this sail come down, and it comes down fast and falls neatly, self flaking into the web between the carbon fiber wishbone legs. You do not need sail ties.

If Tom is right with this boat, the rest of us should consider jumping on the Wylie wagon.